The Wild Turkey landscape is where hunters are flocking (more than three million hunters a year, to be exact). With the ever-increasing popularity of turkey hunting has come the desire and drive to bring that gobbler home. Unfortunately, whether in the bottomlands or forests, it has been a truth that many hunters come home after a long day with no turkey in hand to show for it.
The shot is what must be improved in order to make sure those sad days become triumphant. Knowing the firearm, practicing on the range, picking the right ammo and choke tube combination – all of this must be done in order to know how your shotgun patterns to have a successful turkey hunt.
To achieve this goal a hunter must begin with making the right choice when it comes to a shotgun. The hunter must be comfortable in order to excel.
That turkey gun needs a choke tube, and it's always good to be well-educated about chokes. Tighter chokes are designed for smaller pellets, and the more open constrictions are better suited for larger pellets. Depending on your gun and the ammunition you select, a hunter can over-constrict a shot and diminish the pattern. Pellets can bounce off each other, leaving large holes in the pattern. Many companies are coming out with the 'ideal' choke tube that basically states it does everything but clean and cook the turkey, so make sure you research exactly what your firearm needs.
Turkey shotguns have certainly evolved from the old 30-inch fixed-choke versions; now a hunter can purchase a shotgun that's specifically designed to deliver dense, tight patterns to maximize a hunter's range.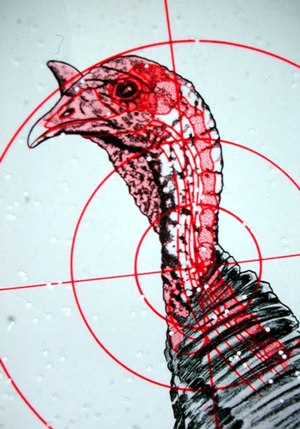 The ammunition chosen also affects your pattern. Each gun-choke combination will shoot a specific round better than others, so the only way to determine what's best is to shoot a variety of ammunition. Varying shot sizes and brands from several distances is a must; that way you can choose the one that gives you the most reliable and consistent pattern.
When it comes to the pattern, the ideal for turkey hunting is 100 pellets in a 10-inch circle at 40 yards. This density allows for plenty of pellets to hit the vital area of the turkey's head and neck for an ethical kill. Initial pattern tests should be on a 30-inch target. Beginning at around twenty-five yards, shoot two shots from each load and then record what has been accomplished with that specific combo of ammunition and choke. Continue this process, increasing five-yards until you reach the distance where you no longer have an acceptable number of hits in the kill zone – 40 yards is the goal you need to reach.
Always use a shooting brace of some sort to reduce error, and then pick the combo that gives you the densest pattern. You need to know that every turkey gun is not going to shoot centered patterns right off the showroom floor; there is a learning process when it comes to turkey patterning, so patience is necessary.
In the end, customized shotguns, state-of-the-art ammo, practicing calling – all factors are important when it comes to taking that turkey home; but not patterning your turkey gun is like playing in the Super Bowl without a helmet.
Source: Mossy Oak / Sportsmans Life / Baret News