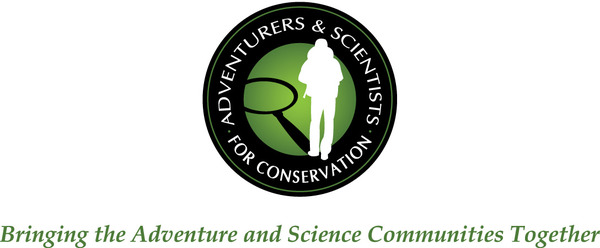 Jan/February 2012 Newsletter
We have already had an incredibly exciting beginning to 2012 with some stellar expeditions on the horizon. In this newsletter you will find highlights from a select few we will be featuring over the next several months. Please get involved with ASC today — sign up to become an adventurer by telling us where you want to go. Find athletes willing to get you data from remote locations around the world. Become a member today and know that your contribution will allow us to reach more remote locations for more scientists in need of data.  2011 Highlights Book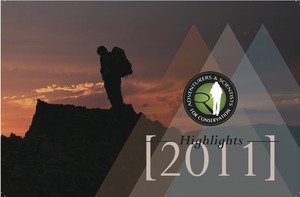 We are pleased to announce that we have recently completed our first Annual Report.  This will take you through 2011 and some of the biggest accomplishements of our inaugural year.  We could not have achieved what we did without support from so many of you.  Thank You!  –– Click to view the Annual Report
Please consider becomming a member of ASC today!  Your donation will go towards partnerships that make a real difference throughout the world.  We have saved the conservation community millions by giving them access to the athletes traveling around the world.  You help is crucial to our continued success.     JOIN NOW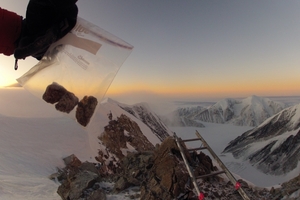 Lonnie Dupre — We wanted to take the time to give a special thanks to Lonnie for collecting data for us while on the brutal summit attempt of Denali.  While 90 mph winds prevented Lonnie from reaching the summit, he did manage to collect rock samples for researcher Dragos Zaharescu from Biosphere 2 at the University of Arizona.  Lonnie's contribution is part of a global effort to get Dragos and his team samples from around the globe.
"The major benefit of working with ASC was that it allowed us to access some of Earth's most remote places. Without climbers like Lonnie Dupre, collecting microbes from such places would have been impossible. It also created a great outreach opportunity to take scientific messages about the vulnerability of such pristine places to a wide public spectrum.  I believe the effort taken in collaboration with ASC and the explorers are well worth it and it takes exploration endeavours to new horizons."
— Dragos Zaharescu, Biosphre 2, University of Arizona
To learn more about how you can participate in this project as you climb a gnarly peak, visit the ASC rock collection webpage.
Wolverine Tracking — ASC recently led a group of 13 volunteers tracking wolverines near Lincoln, MT in conjunction with Wild Things Unlimited.  Steve Gehman from Wild Things Unlimited recently wrote this summary of our weekend:
"Our snow-tracking efforts on the Lincoln Ranger District of the Helena National Forest involved following five wolverine trails for a total of 13.8 kilometers.  Along those trails we collected nine scats, six hair samples, and two urine samples.  We also documented three wolverine beds, four dig sites, and one feeding site (elk carcass remains). We also followed one lynx trail for 1.3 km; no samples were collected along this trail.
From WTU's perspective, the weekend was a huge success.  The participation of 13 volunteers allowed us to split into six groups over the two days, and cover more wolverine trail segments than we could have possibly covered on our own.  The productivity of our tracking efforts, in terms of distance covered and samples collected was probably three times greater than what we would have accomplished without ASC volunteers.
Not only did we obtain very useful information regarding how wolverines utilize the habitat and move through the landscape of our study area, we believe that DNA from the collected scat, hair and urine samples will likely confirm the individual identity of one or more wolverines."
---
A Look at Our Upcoming Expeditions
Arctic Row  —   In July of this year, four young men will attempt to cross the Arctic Ocean while collecting data for researchers Paul Hopcroft and Julie Hagelin from the University of Alaska – Fairbanks.   ASC is proud to have connected this ambitious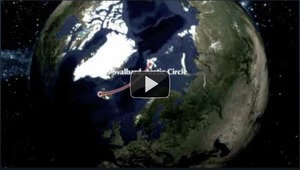 group with researchers who will gain otherwise unattainable information from an  expedition that has never before been attempted.  The group will be collecting plankton samples and observational data on whale movements and their feeding habits related to wind patterns.The expedition is made up of four crew members for two rowing positions. The team will rotate, rowing two hours on/two hours off for 24 hours a day. Unlike traditional rowboats, the rowing vessel is built with the latest in rowing technology. The team will have two watertight cabins – one is for sleeping and the other is for gear and food.The team will launch from the northeast corner of Iceland and travel northeast through capricious currents. Because of atmospheric refraction in the Arctic Circle, the team will row through near constant daylight. In all, the crew will travel 1,100 miles across the Arctic Ocean, at which point the team will arrive in Svalbard – the edge of the polar ice cap.  Watch a brief video about this expedition.
12 Rivers Project —  John Dye and Danielle Katz are now in the midst of a campaign to paddle twelve critical California watersheds "Source to Sea" in 2012. The team believes that beginning at the source of a river and traveling all the way to the sea creates a comprehensive, never-before-seen picture of the entirety of a watershed.  Fueled solely by human power, the expedition includes trips on the Yuba, Russian, Salinas, Los Angeles, American, Tuolumne, Merced, Sacramento, San Joaquin, Mokelumne, Klamath, and Feather.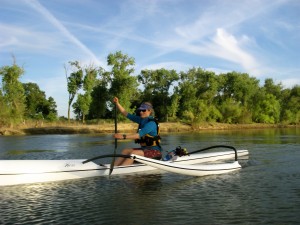 ASC has paired the team with several riverkeepers in California, as well as Watercourse Engineering, Inc., which specializes in flow, temperature, and water quality assessment of aquatic systems through field monitoring, data interpretation, and mathematical modeling.   As they float these rivers, the 12 Rivers team will be collecting data related to climate change, water quality, turbidity, and stream temperatures."This project allows us to take a step back and look at the whole picture instead of just a section of it. You experience both the pristine beauty and altering effects of human impact," says Katz. "It begs the question: how can we find the balance between use and overuse? How do we become river stewards to preserve this resource for future generations?"
With over 1,900 miles of paddling and a host of portages (along with too many freeze dried meals to count), the team will have an inspiring collection of stories to tell. The campaign will engage in community conservation paddle days, river clean-ups, and events with local non-profits throughout the year.  To learn more about this project, please contact us at 12Rivers@adventureandscience.org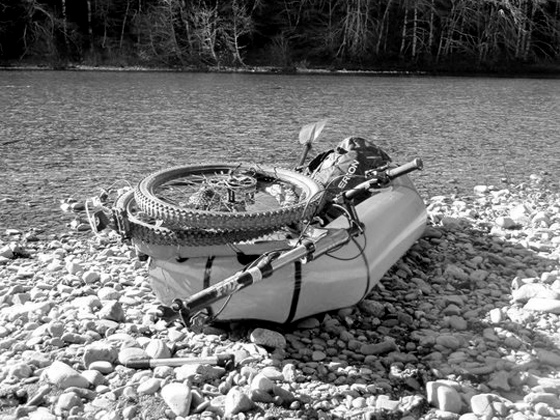 Fatbikerafting the Arctic — In the Spring of  2012, Andrew Badenoch will embark on a 7,000 mile loop starting in Bellingham, Washington, with the goal of reaching the Arctic Ocean by packraft and fatbike. The return route loops through Alaska to return via the Lost Coast and Inside Passage.  Throughout his expedition, Andrew will be collecting millipedes for researcher Bruce Snyder from Kansas State University, in an effort to document the biodiversity of these organisms. Snyder anticipates a very high potential for the discovery of new species, as this part of the world is rarely surveyed and largely unknown. In addition, Andrew will be participating in a number of other projects for ASC including bone collection, wolverine tracking, and more.
Fatbikerafting the Arctic is one component of the larger vision of 77Zero: "7 Continents. 7 Seas. Zero Fuel."  The underlying goal of 77Zero is to shift public thinking toward the feasibility of clean energy sources-and non necessity of burning gases extracted from the earth-in all facets of everyday life. The estimated duration of the expedition is six to eight months, but may vary significantly due to ice, ocean, and ground conditions throughout.
To learn more about the research in which Andrew will be participating, please visit our Millipedes Study Page.
Amazon Express — In August of this year, West Hansen will attempt to become the first person to solo kayak down the entire (4,225 mile) length of the Amazon River – and do it faster than anyone ever has before.  But it's not just about kayaking, or accomplishing some sort of world record. His first visit to the Amazon in 2008, as a part of Team Easy Living (which achieved a still-held, record-setting win in the Great Amazon River Raft Race), was eye-opening for West.
"A tiny, adorable girl from a small village deep in the Amazon jungle (about 20 miles downriver from Iquitos, Peru), handed me this baby three-toed sloth.

The Amazon River was both inspiring and incredibly humbling – it is immense, a true force of nature. It is saddening to see all the industrial and human waste that spills into this jewel of the Earth, untreated and unregulated. The tiny girl with the three-toed sloth, along with so many others, are forced to drink the same water that holds these pollutions."
The Amazon includes some of the most remote regions in the world, many of them accessible only by water. Thus, few people outside of the local population have been there. Throughout his trip, West will be collecting data for the Pacific Biodiversity Institute in addition to water samples that will shed light on the current state of the Amazon on an unprecedented scale.
"Working with Adventurers and Scientists for Conservation has been a great pleasure and an immense help in the Pacific Biodiversity Institute's efforts to study the wildlands and biodiversity of South America.  ASC has connected us with two expeditions – three young women who are now hiking the length of South America and a young man who is going to paddle the entire Amazon River.  Trinity, Shelley and Sarah have already collected hundreds of geo-referenced photographs and many pages of data on the wildlands of southern Argentina and Chile for our project, and they are now headed north to repeat this process many times over as they travel through the rest of Argentina and Chile and on to Bolivia, Peru, Ecuador and Venezuela.  West will be collecting similar data and many georeferenced photos as he paddles down the Amazon from its headwaters to the ocean.  The work of Adventurers and Scientists for Conservation in facilitating these connects is invaluable."

                                                                                    — Peter Morrison, Pacific Biodiversity Institute
To learn more about this research visit our Wildlands South America Page
---
Again it is really your support that makes all of this possible.  Please visit our website to learn how you can get involved even if you can't contribute with a donation.  One of the biggest ways you can help us is by passing this along to friends and family.  There are links at the bottom of the page to share this via social media as well.
Thanks so much,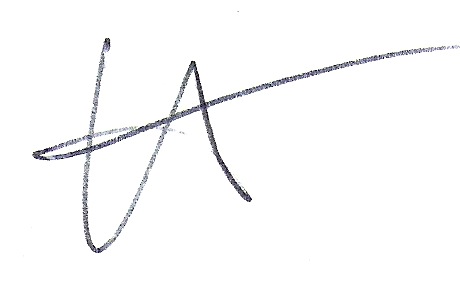 Gregg Treinish
Founder/Executive Director